Data-based Innovation

Offering > Management Consulting > Data Consulting >Data-based Innovation
Data-based Innovation
We optimize business data and establish an innovation system to create performance
Why We Do
For a successful digital transformation, it is necessary to change the master data management paradigm.
Standard master data is a prerequisite for AI application
Company A pursued a digital innovation task to perform automatic matching work of ordered items and delivery details of suppliers by using machine learning-based AI, but company A confirmed that the quality of standard master data for ordered items was degraded and stopped the task. This is because the scope and effectiveness of automatic matching are limited no matter how good an algorithm is applied if there are no standard master data or if the standards are not applied.

Limited master data is the cause of IoT application failure
To minimize facility disruption and reduce unnecessary maintenance costs, Company B has attached IoT sensors to production facilities to collect facility log data and analyze the condition to automatically implement the preventive maintenance threshold and parts replacement cycle. As a result of carrying out the task without a master data system and operation process in place, the performance that was originally targeted has not been achieved.

Emergence of the need to establish an operating information system
The key to maintain the accuracy of traditional master data is static information, such as products, materials, facilities, and customers. However, in order to succeed in digital transformation, it is necessary to expand the concept of master data to manage operational information. Operational information, such as production lead time, yield, raw material/part procurement lead time, inventory days, and maintenance cycle, is dynamic information and is subject to optimization.
Services Provided
Data-based Innovation Consulting
We optimize business data and establish an innovation system to create performance

In the era of the digital revolution, data determines the success of business.

The common points of companies that make good use of data is that they accurately recognize standard and operational information, establish an enterprise-wide management system, and closely connect it with business processes, laying the foundation for innovation growth. S-Core establishes a data-based digital innovation system that can generate tangible performance.
Design a data-based digital innovation system for sustaining innovation performance and continuous improvement
We support substantial improvement of company-wide performance through the systematic management of operating information by industry.
Build an IT system to realize data-based innovation
We design and build an ODM (Operational Data Management) system for the systematic management of vast operational information produced through business.
Provide operational information BPO service
We provide constant support services for deriving data-based innovation tasks by industry and operational advancement.
Holds data-based innovation system implementation framework and methodology
By using the operational information management methodology of S-Core that has been verified in leading domestic and overseas companies, we analyze the processes that affect the company's core operational information and create an optimized management plan from the company-wide perspective.
Successful project experiences that generated real performance
Operational information improvement can be successful only by knowing the business and customer process. S-Core has many experiences in solving decision-making errors and operational information issues that reduce process execution power.
Holds the self-made solution that is proven
We provide an ODM solution that combines knowledge and know-how accumulated through a number of projects.
Abundant experts
We have professional consultants who have successfully performed operational information management projects for a long time.
We have secured the productivity improvement effect and a data-based analysis system.
– A global electronic component manufacturing company
Challenges
A global electronic component manufacturing company A was operating a typical SCM that uses the MRP function of an ERP system after agreeing on the production and sales plan volume through the S&OP (Sales and Operations Planning) consultative body, calculates the appropriate quantity of raw material and parts to purchase, and places an order to the supplier automatically. However, at some point, there was a problem in SCM operation, such as overstock or shortage of raw materials and parts, and inefficient allocation of production resources due to a large difference between production plan and performance, and failure to meet delivery promises, which gave a result of facing the situation of poor management performance.
Services of S-Core
S-Core analyzed the SCM process and data of company A to derive issues and causes. By extending the traditional concept of master data, we checked information serving as a standard for SCM business performance and affecting operational and financial performance in case of distortion or error. According to the analysis results, company A could not accurately manage the procurement lead time of ordered goods. This caused frequent errors in MRP results and in turn, distorted the results of subsequent processes. The lead time for procurement of raw materials and parts played the role of master data (operation information) for company-wide processes that could affect business performance.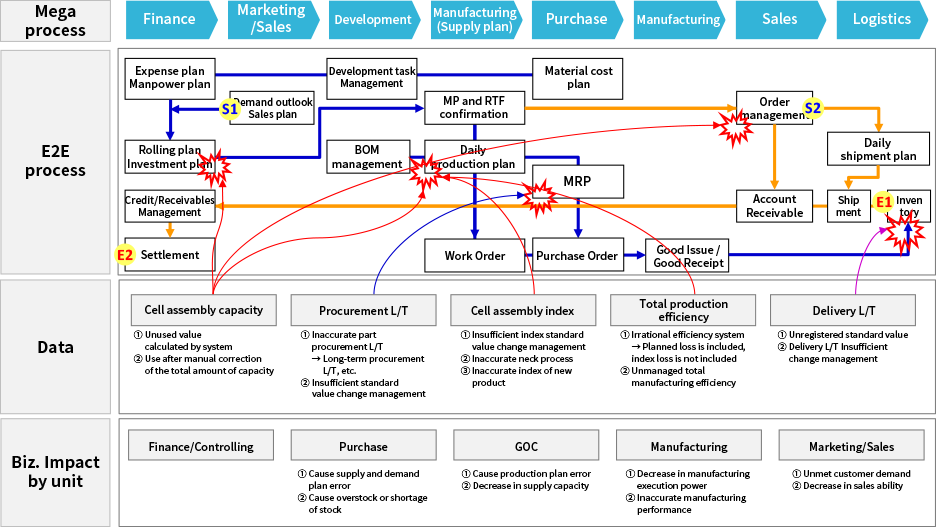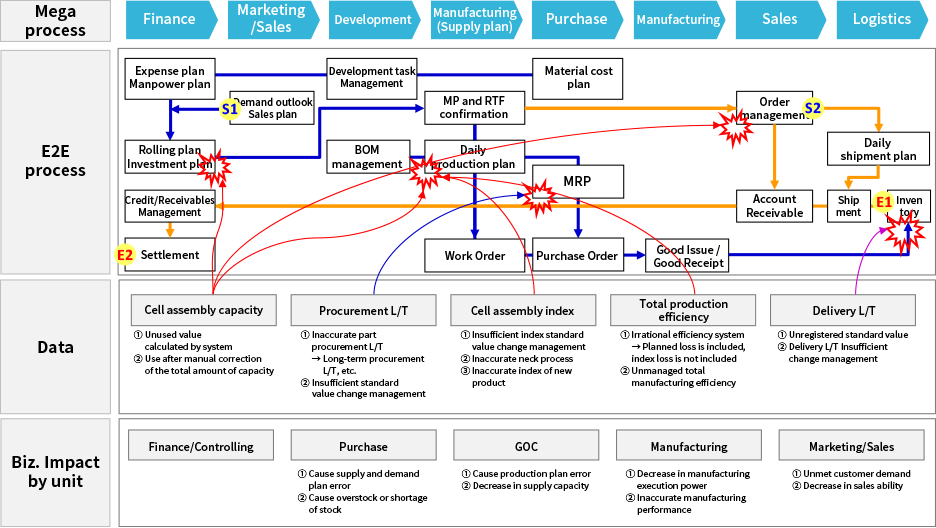 Results of analysis on the impact of SCME2E process due to A company's error in Master Data Management
Company A established an operational information management system and laid the foundation for data-based innovation.
Quantitative effect
– Improved non-investment production capacity (Capa) through optimization of production standard time
– Optimized transportation lead time to reduce operational inventory by subsidiary
Qualitative effect
– Raised SCM process execution power by establishing operational information
– Analyzed operational issues by using data and laying the basis for improvement
Ask Us Anything
If you leave an inquiry with us, we will provide you with a swift, detailed response.
Get in Touch