MyData

Offering > Management Consulting > Data Consulting > MyData
MyData
We provide data analysis consulting for service strategy planning and super-personalized services using MyData.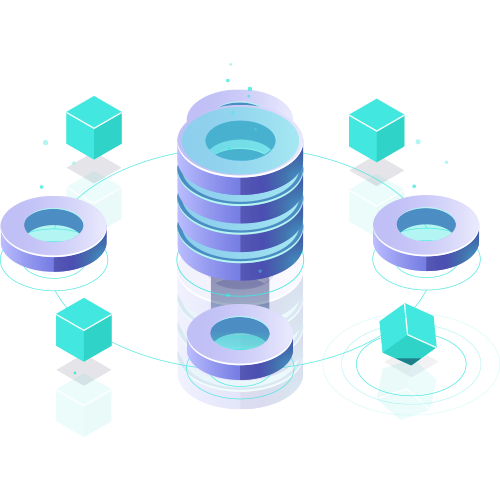 Why We Do
MyData has fueled the data industry transformation.
Industry4.0 requires new business models and super-personalized services, and companies need to transform to create new growth values.
Paradigm shift in data sovereignty
MyData will make a customer have personal data sovereignty rather than a company or an institution. With IT development, companies have controlled and managed personal data over the past 50 years.
However, in the era of My Data, individuals will be able to deliver and use their own data wherever they want.

A Big Blur between Industries and Businesses
Industry4.0 is accelerating at rapid rate.
In particular, the pandemic has increased the need for contactless services, and diversified the amount and kind of available data.
The increasing demand for continuous and quick services between people and people, and between people and objects leads to a big blur that the borders between industries are being gradually removed.

Expansion of Data-based Business and Service-oriented Model
Enterprise valuation standards are already highly recognized by service-oriented companies.
This means the market focus shifts from a supplier to a consumer.
For ultra-personalized services, the ability to develop data-driven business models and analyze data is becoming critical across all industries.
Services Provided
MyData Consulting
We provide the differentiated consulting services for a MyData provider such as establishing strategies, planning, and designing models.

We seek for new business opportunities and present strategies for commercialization and growth using MyData.

The hegemony of data-based industry is shifting toward super-personalization and analysis services. MyData has fueled such data industry transformation. The MyData market, which was accelerated after the enactment of three data acts, will expand into the entire industry, starting with personal credit information. We offer MyData Services strategy, planning and data analysis consulting services for companies looking for new business opportunities using MyData.
Guide for approval and audit
We guide and review for the rules and requirements of each phase of the audit from pre-approval to approval, audit and service launching.
MyData service planning and strategy establishment
We plan new MyData service through customer surveys based on quantitative and qualitative analysis and establish service strategy including business goals and marketing plan considering corporate capabilities and industrial characteristics.
Service design based on data analysis
We define the classification systems, behavioral analysis/recommendation algorithms, etc. required for the service and set requirements such as development and validation of data analysis and analysis models.
Building MyData collection/use governance and data utilization system
We build the governance system with findings of the key elements of data collection and utilization, considering the service nature that handles personal information.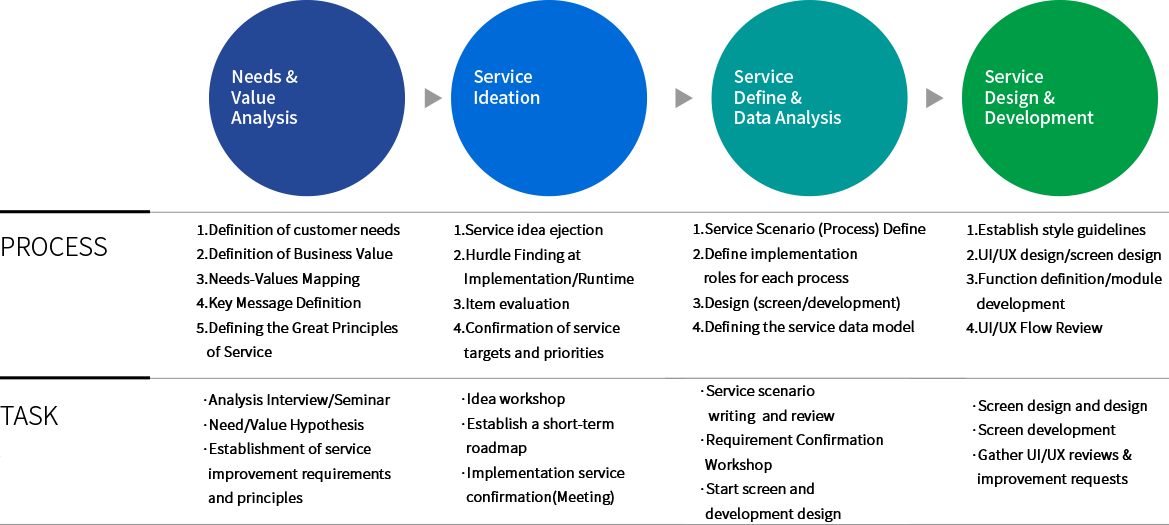 Data/Services Consulting
– Data digital transformation consulting services
– MyData strategy and business approval support
– MyData service planning, design and modeling
IT Services
– System building using global IT expertise and software skills
– MyData system building using Cloud, Fintech, and platform technologies
Business Partnership
– Joint work system through partnerships with large IT service providers and specialists with financial industry experience
Platform/iMDP
– Having a platform that enables my data digital transformation (iMDP)
– Maintenance and technical support for MyData platforms
The project was selected as the best case with the most reliable service launch and differentiated service among all our projects.
– A financial investment company
Challenges
Company A, which provides financial investment services, obtained preliminary approval for a My Data provider after the enactment of the three data laws, and needed to build a platform to apply for the MyData provider license. At that time, there are 28 MyData providers and three affiliates of the company got the license. It was particularly challenging to launch the service within 4 months from the start of the project amid the fierce competition for service release between the MyData operators.
S-Core Services
In order to tackle the challenges faced by Company A, we had only four months to complete ① platform building ② service launch ③ operation commencement and training for the MyData business. Thus we used a complex management strategy to carry out the project.
The platform was designed for the high quality of service operations, stability and efficiency, aiming for the early settlement and growth of the MyData business. We also set the direction of MyData services and built the service upgrade plan that can be applied at the second phase of development promotion.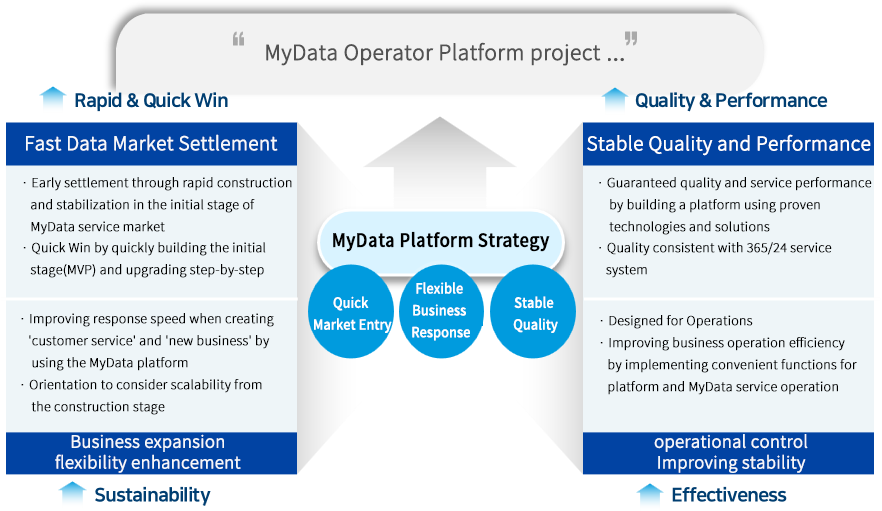 Company A Project Expectations
Company A has built a differentiated service platform as a MyData provider.
Quantitative effect
– Launched financial MyData service for the first time for early market advance
– Reliable service release without problems such as personal information issues and security issues
– Built the most efficient operator platform in the group to raise customer satisfaction
– Attracting new customers and linking with product sales
Qualitative effect
– Increased customer's channel competitiveness in the competitive FinTech market
– Securing new marketing bases such as asset management and product recommendations based on industry characteristics
– Securing a highly personalized service and analysis-oriented marketing environment based on customer MyData
Ask Us Anything
If you leave an inquiry with us, we will provide you with a swift, detailed response.
Get in Touch