Master Data Management

Offering > Management Consulting > Data Consulting> Master Data Management
Master Data Management
We establish master data, data quality, and governance management system to secure operational excellence.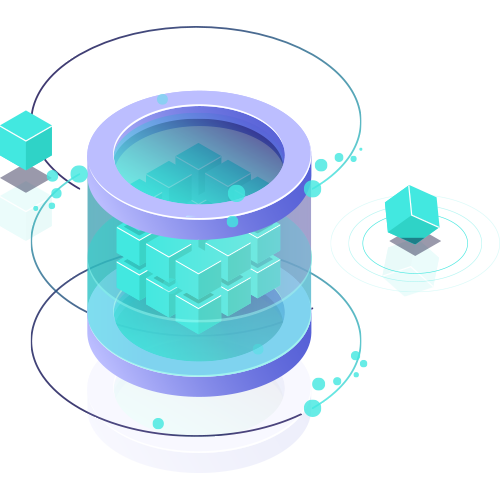 Why We Do
The digital era is the data era. Data is the driving force and core value of business value creation.
Increase of data value
The value of data is increasing day by day as the traditional, offline economic and social structures have been transformed into digital, online structures, and IoT and AI technologies are rapidly emerging as core technologies of the Fourth Industrial Revolution. It has become strategically important to meaningfully analyze the vast amount of data generated inside and outside the company and use it for management.

Data management system is required
Globally leading companies collect not only internal data, but also external data generated from online and IoT devices, and analyze them with a big data platform. Companies performing the data-based business are realizing the importance of data quality and the need for a well-equipped data management system. Data management capabilities are now emerging as an important pillar of corporate competitiveness

Emergence of the importance of continuous management of master data
Many companies recognize the importance of master data. However, it is not an easy task to continuously manage the master data. To this end, it is necessary to establish a dedicated organization based on close collaboration between the business and IT departments. In addition, it is necessary to have a standardized management system and implement a solid operating policy to improve quality.
Services Provided
Master Data Management Consulting
We establish master data, data quality, and governance management system to secure operational excellence.

Master data, which is comprehensively applied to various company tasks, is the basis of business performance and analysis.

Incorrect master data goes through business steps and may cause errors in analysis and decision-making. S-Core establishes a standardized master data management system that accepts various perspectives by accurately diagnosing the status of corporate business and master data management, and a data quality management system that prevents distortion of master data.
Design of a master data standard system that supports process connection, integration, and various business expansions
We establish core master data classification systems, attribute systems, identification (code) systems, and notation standards.
Design of a data quality system to maintain accuracy and consistency of master data
We continuously improve the quality of master data by monitoring data quality in connection with the process and defining quality indicators.
Design of master data governance to maintain the standard and quality system and to secure the ability to execute improvement
We define operational standards, standard management processes, and organizational systems according to the master data life cycle.
Construction of Master Data Management (MDM) and Data Quality Management (DQM) system
We build an MDM system for the integrated management of master data in accordance with the standard system and operating standards. We also build a DQM system for data quality monitoring and improvement based on proven solutions.
Providing master data BPO service
We provide operation consulting services to advance the master data management system to respond to master data operation level inspection, M&A, business integration, and compliance.
Holds master data management system innovation framework and methodology
We have a proven master data management framework and methodology to minimize trial and error and achieve optimal results.
Accumulated experiences and assetization of experiences
We have accumulated know-hows in establishing a master data management system through projects in various industries. We establish a master data management system suitable for corporate management conditions and business structures and guide system construction.
Expert organization with experience and competence
Experts who have successfully designed and built a master data management system for various industries, such as electricity/electronics, semiconductors, steel, chemicals, energy, general manufacturing, distribution, finance, and bio services.
Proven solutions & partner collaboration system
We propose a solution that fits the business conditions through a number of project experiences. In addition, stable system construction services are available in collaboration with technology partners with proven capabilities.
In addition to cost reduction, the level of global operations has improved.
– A global electronic product manufacturing company
Challenges
Company A, which produces electronic products, operates a number of production subsidiaries (factories) and sales subsidiaries at home and abroad. Company A assigned a code to each product by manufacturing subsidiary for regional tracking management, and a code for each customer to the product with the same specification to facilitate logistics identification. As a result, it was possible to easily aggregate the performance by production location and sales performance by customer, but the calculation of the performance by product model was inevitably slow, and this increased the possibility of a long-term inventory due to an increase in physical inventory of products. Since the long-term inventory of physical inventory means a huge financial loss for company A, the management took it
Services of S-Core
To solve the problems faced by the company A, S-Core began activities to improve master data management. We standardized the company-wide product code and re-established the master data management process so that all departments within the company can perform work with the same product code along with production and sales site workers. We classified product codes through product line and model by integrating production and sales codes, and defined management properties and naming rules for each product code.
In addition, we performed a migration work that transfers performance and inventory data from past product codes to new codes. We also reorganized the management process, such as the management subject, timing, target system, and input information for each life cycle of code generation, change, and disposal. We established a dedicated organization for master data to reorganize a monitoring system for operating procedures and a training system for business managers.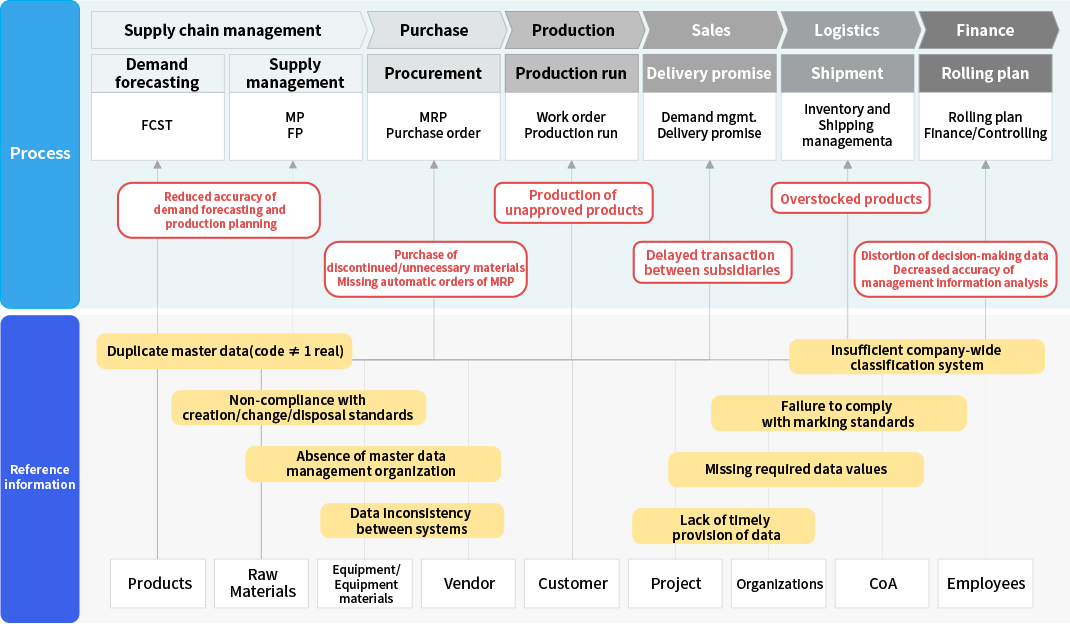 Possible Master Data Management issues by business process
Company A has laid a foundation for smoothly deploying global operations by optimizing the management code assigned to the product.
Quantitative effect
– Number of material codes: Reduced by more than 20%
– Inventory cost: Reduced by 15 to 25%
– Manufacturing cost: Reduced by 3%
Qualitative effect
– Improved work speed, such as planning, performance aggregation, and analysis, by strengthening communication between production and sales subsidiaries
– Consistent management information based on master data can be provided in real time
Ask Us Anything
If you leave an inquiry with us, we will provide you with a swift, detailed response.
Get in Touch