Offerings > Management Consulting > Digital Innovation Consulting > Digital Transformation Strategy
Digital Transformation Strategy
We establish a corporate innovation strategy and an action plan through digital transformation.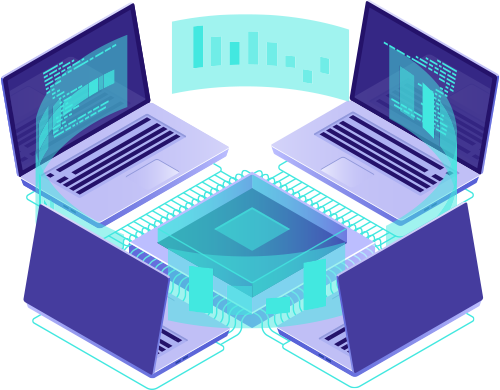 Digital to business: Technological changes are making the nature of business different.
Increasing uncertainty in predicting changes in the business environment
The introduction of digital technology is expanding across the industry. However, there are still many questions about the diversity of application and customer acceptance of digital technology in predicting changes in the business environment by industry.

It is important for companies to establish a direction of transformation.
Application examples of various digital technologies, such as AI, big data, IoT, and blockchain, are emerging. But it's not easy for companies to find the right digital strategy. The value of digital transformation can only be achieved by carefully reviewing the uncertainty of change as well as the company's aim and attainability within the business ecosystem in accordance with digital technology.

The application of digital technology is accompanied by comprehensive changes in the organization, system, and process
Digital transformation can achieve the intended results only by thinking about changes in work, systems, and organizational roles. In the same sense, we need to look at the problems not only in the areas of application of digital technology but also in terms of discovering innovation tasks within the existing value chain. Digital innovation and process innovation are complementary and should be approached from the perspective of "value innovation," rather than "technology application."
Digital Transformation Strategy Consulting
We establish strategy and action plan to successfully drive digital transformation.
Overview
We provide strategies and master plans to innovate business models and dramatically improve operation methods by using digital technology.
We present strategies for transforming conventional business models through digital technology. By establishing a digital introduction plan based on organizational capabilities, not just applying technology but matching with the company's management strategy, we help you realize the digitization of the value chain within your organization without trial and error and innovate the customer experience.
Service Details
Business model innovation strategy based on digital technology
Based on digital technology, we discover opportunities for innovation and shape ideas to establish goals for business model changes. We also present detailed action strategy to achieve the goals.
Establish a master plan to promote digital transformation
We diagnose current status and level through step-by-step strategy methodology, owned by S-Core, and derive a vision for digital innovation. Based on this, we establish a detailed action plan for the design and implementation of future models.
Strength
Establishes a verifiable business strategy through the actual implementation of digital technology
S-Core's software technology service capabilities allow digital technology to be applied to real business models for pilot validation, not just establishing idea-based high-level strategy.

Accurate status diagnosis
Through the current status assessment methodology of S-Core specialized in digital innovation, we accurately diagnose the current level of a company, such as digital innovation readiness and maturity.

Application of proven use cases
We provide an effective future model by applying various use cases verified through actual project cases.

Provides a master plan optimized for domestic reality
By applying a methodology proven through global-level domestic companies, we can establish master plans optimized for the domestic reality.
Challenges
Company A is a global display manufacturing company. Due to the nature of the industry, large-scale facility investment was required, and Company A was in a difficult business environment, where it could guarantee sales and profits only by maintaining high quality. The management of company A secured AI experts to become a leading display panel manufacturer in the world by utilizing AI technology, and was pursuing task discovery and execution through an in-house innovation organization.
However, in the field, they began to question the adequacy of finding a task. Since the tasks were concentrated in specific areas, such as inspection, analysis, and simulation, and were promoted by each department in charge, AI innovation was not as easy as expected. Accordingly, it was necessary to discover tasks systematically and have a sustainable AI promotion system.
Services of S-Core
The first thing S-Core started was to define the vision of company A that it would like to achieve through AI. We easily defined the tasks by creating a key value map necessary to achieve the vision on the value chain, while discussing improvement scenarios for each area to achieve this with business departments. In addition, we provided a guide based on AI promotion methodology of S-Core to the department in charge of each task to reduce trial and error.
The next step was planning AI tasks. After we verified whether the business value of a task is sufficient with the field, defined the data acquisition status and integration requirements necessary for AI model development, and prepared a specific AI model definition, the promotion organization and the business department understood the specific aspects of innovation through AI. Data integration and the introduction of an AI platform were also important considerations. We have reorganized the level of data integration required from the perspective of promoting AI tasks, not from the perspective of the IT department. We also established the criteria for selecting suitable vendors by defining essential requirements for an AI platform that supports company-wide AI task promotion and modeling tasks.
Lastly, by defining a sustainable AI promotion organization and governance, we made Company A secure practical momentum and establish a company-wide utilization system for AI assets.
Effects
Company A was able to expect the following effects through the implementation of the defined AI task.
Quantitative effect
– Manufacturing area: Improved quality cost and decreased response time for failures and quality abnormalities
– Sales and marketing: Sales increased by improving response to demand and product planning
– Management area: Improved process lead time and reduced management cost

Qualitative effect
– Established an AI-based innovative corporate culture
– Secured the capability to discover value-based innovation tasks
Ask Us Anything

If you leave an inquiry with us, we will provide you with a swift, detailed response.
Thank you for your interest in Digital Transformation Strategy